I posted
Part One
of our classroom tour yesterday. Today I will show you some not so great pics thanks to the weather being so over cast today.
First is our entrance I didn't take pictures of our door or the hooks for each child but here are some pics from standing at the doorway. We used to have a really cute rug here for our reading/manipulates/puzzle area but the dog peed on it!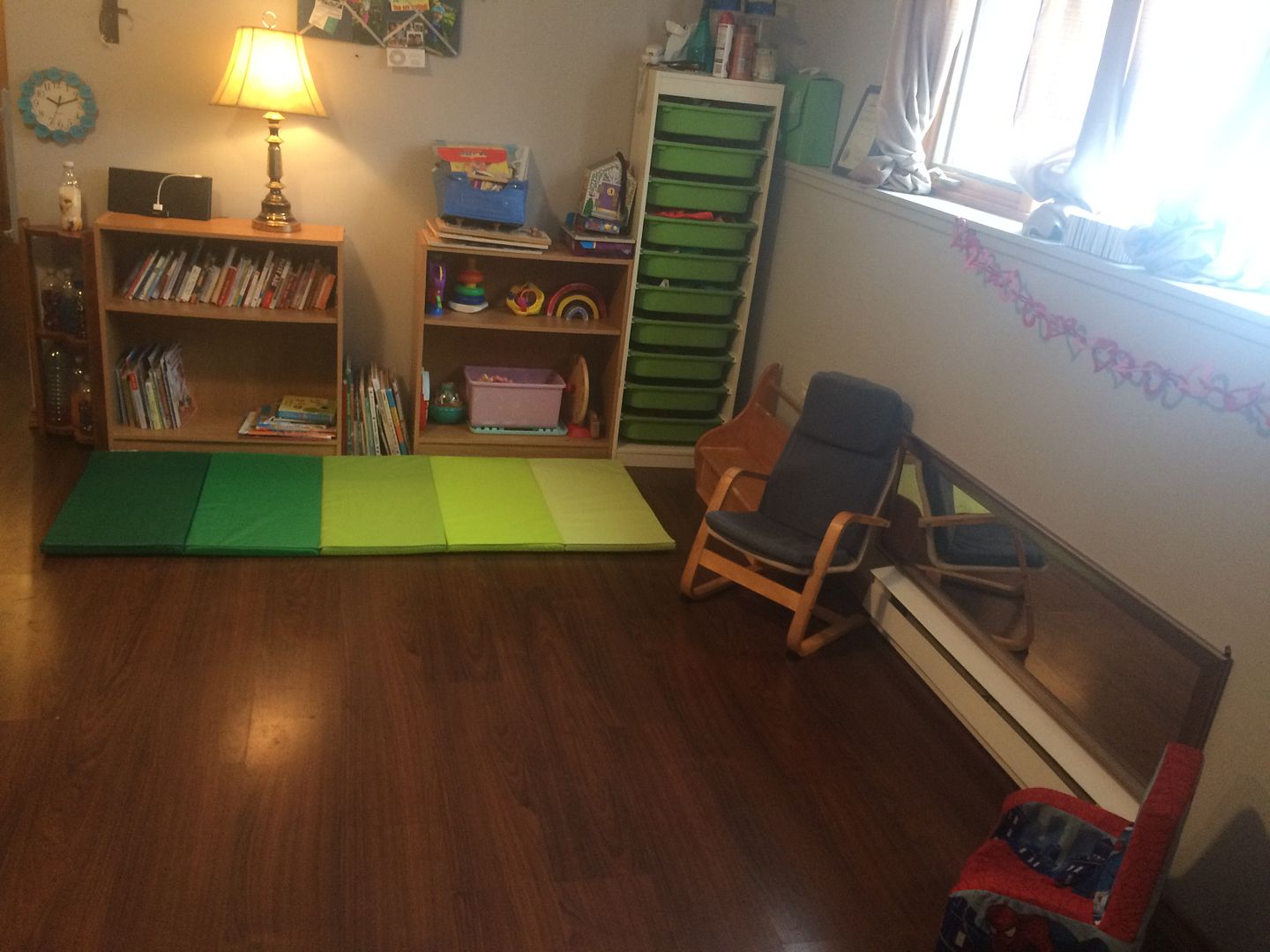 I added a full length mirror to the wall sideways so the little ones could see themselves and explore. Lately they have enjoyed making faces, and trying on dress up clothes especially the capes and masks and looking in this mirror. Mirror is mounted with gorilla glue. The children can take the trays (Green Bins) to the table in front of sofa or use anywhere within this room. I try my best to keep the toys in each room to teach them where things belong.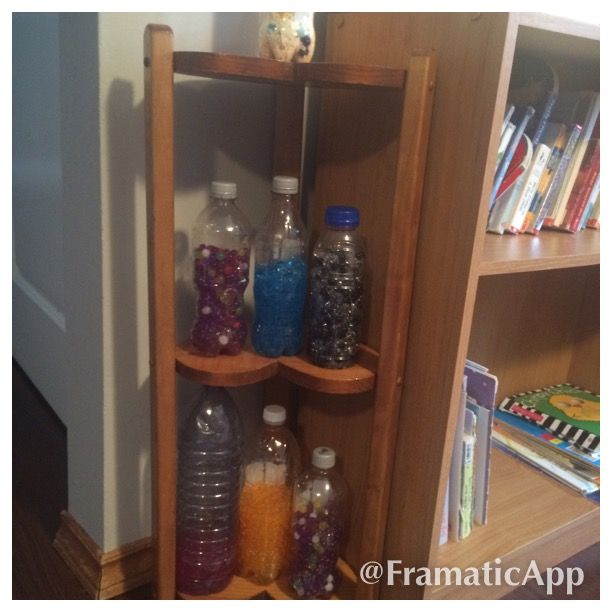 We also have a small heart shaped shelf with our sensory bottles. Mostly water beads but these are rotated weekly or as needed with eye spy bottles and more water beads etc. We also have sensory bags but that is a whole other post.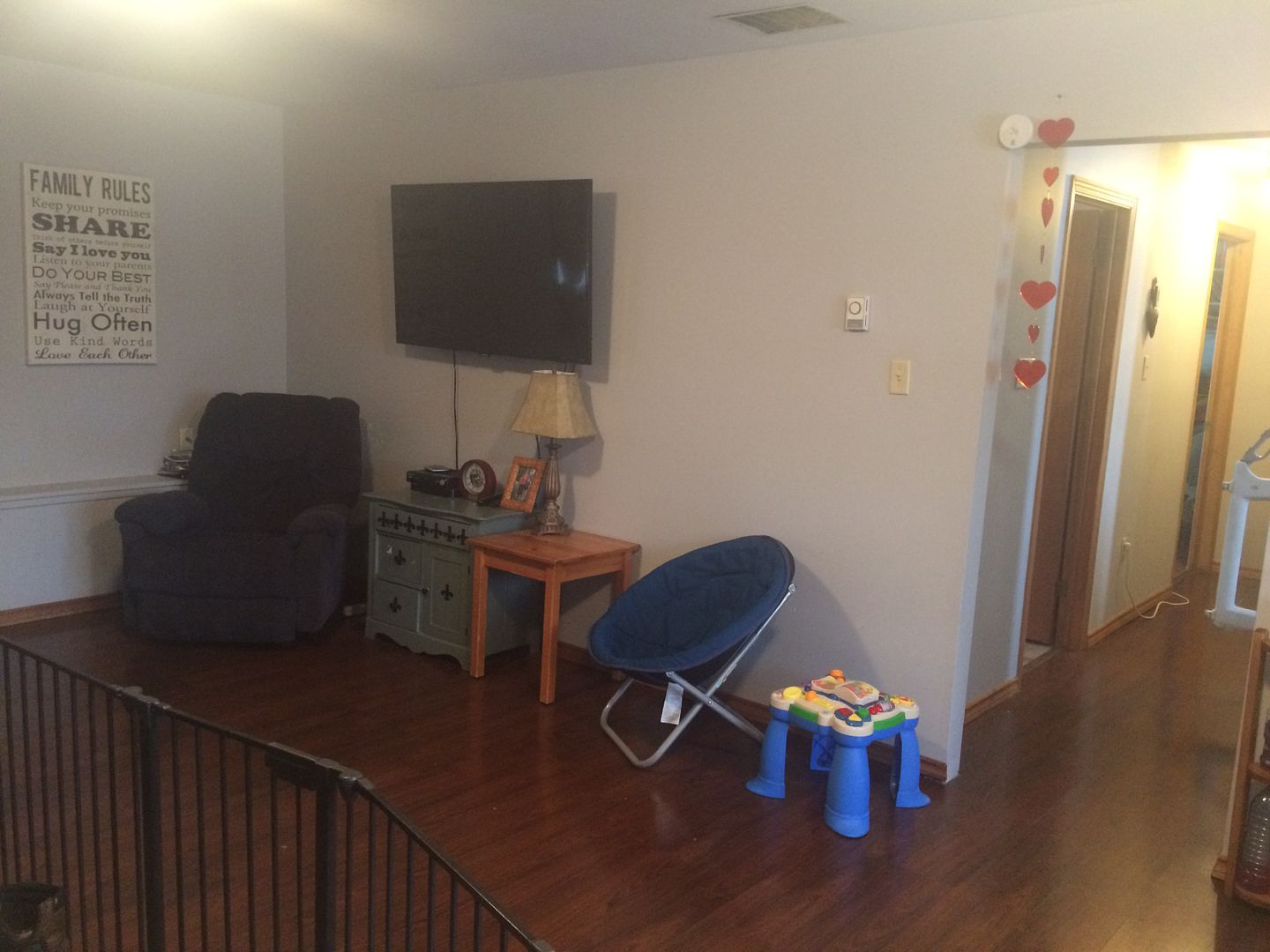 As my husband has that crazy big t.v. mounted down here and spends his evenings here I wanted this area to look more like a home than a daycare centre. Children should feel like they are in their home away from home and I think i am on my way of capturing that feeling.
Here you can see the hallway. It leads to the bathroom on the right, Stairs (gated) to go to our upstairs home on the left, my daughters room on the right and at last the lunch/nap/science and dramatic play room on the left. At first I was concerned that the two major rooms were not directly accessible but surprisingly it has worked really well.
We have direct access to the side and backyard and tons of natural light. A huge bonus as we only had two windows at our last home and they were situated under the deck so no natural light at all.
Overall i am happy with our new layout but want to slowly get rid of the the plastic toys and go for more natural materials.
We also have a wood burning stove in this room that is gated in with a proper gate. In 1.5 years we have never had any problems with anyone getting hurt. Only downside is it van get very hot in this room but we open the windows when this happens.